To make our day more productive and worthy ,its become necessary to update our jobs and process with technology and techniques.Automation of job processes helps to save time, energy and effective utilization of resources.Lets find how productivity tools makes our work faster and effective.
1. Time Management
How you mange your time on your various tasks is very important. Make sure that your time is not wasted by engaging in un important tasks that kill time.
Rescue Time
is a time management tool which helps you to analyze how much time you spend on each activity, whether your time path is in the right direction. When time is utilized effectively on right tasks,you can be more productive.
2. Task Management
In order to have a productive work day you need to organize your various tasks and priority jobs.
Todoist
is a task manager tool for your to-do-list.This software helps you to streamline and organize your work by simplifying it.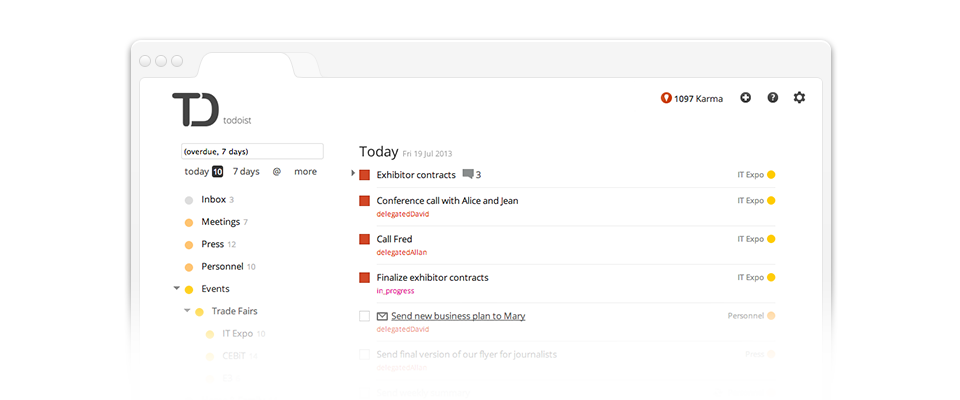 3. Project Management
For successful implementation of projects,all the team members should perceive the ideas and information well. Effective collaboration is possible through
Wedoist
tool for projects.This tool facilitates effective communication among the team members in seconds.
4. E-mail Management
Mail box is one of the major distraction comes in between your work. Every now and then checking your inbox is really time consuming and this keep you away from your focus.
Sanebox
is one of the mail management tool which enables you with your important and priority email checks, summarizing the rest.
5. Job Matching
HR professionals spend enormous time in their recruitment process especially in resume matching and talent pool acquisition category.To make this process easier and faster many job matching tools are being used widely by organizations.
Recruiter.com
specializes in finding the best match for your job profile.This initiates productivity with new talents and skill.
6. Integrate With Social Media
Linking with social media can kill your productive time, but on the other hand it has many useful tools and applications which eases your work.This tools help to save time and become more productive and successful.
Like Hack
is a social media tool helps you to centralize your news from different sources and organizes it according to its importance level.By doing this you can save your productive time avoiding your junk mails.
7. Effective Teamwork
In organization nothing is achieved by solo performance.Team work is a must for achieving common goal.Team leaders are always concerned of leading their team effectively and effortlessly.
Grovo
is a social media tool which assures that your team is on track.The leaders can track the progess of the team members and can have open discussions on new matters also.By using this tool ,the employees can be educated on any new matter without spending much time.
8.Be Collaborative
Effective collaboration with the employees/team members is required,when you work in groups/team to achieve goals.The leaders should have the capability to collaborate confidently with his team
.Dropbox
gives a helping hand to leaders/HR people
.
This tool gives you real time update of your often used files and makes file sharing easy. By using this the leaders /employees can also restrict file sharing to particular group or with in the time.Changes can be tracked easily too.
9.Employee Recognition
It is a well known fact that when employees are recognized for their achievements ,the organization gets employee empowerment that contribute more productivity.The top level management can use certain tools for effective evaluation.
Teamly
helps you to motivate and organize your employees.This tool helps the managers to recognize individual achievements.
10. Productivity Tracking
To see what,s happening at your workplace and how much time your employees are in to productive work, one cannot go on supervising it personally all the time. There should be some checklists for the same.
DeskTime
is one tool for tracking time productivity of the employees.This software enables the management to analyze productivity status of employees.
11.Be Organized
Work days always keeps you busy
.
When you are busy with varied tasks,you tend to miss some of your important task which needs immediate attention.
Evernote
is a wonderful tool that relieves the pressure on your memory.With evernote you can synchronize all your notes,web clips, files and images and your research data too.This tool has multiple features that enables people to get the work done easily and effectively.
12.Document Management
When your documents are scattered over different files and folders and places where you put,keeping track of these data will become a headache
.Googledrive
is a simple solution for this complicated problem.Googledrive offers you powerful search and faster search results by recognizing the objects and documents.You also can have a broad view over different file types.This tool also facilitates to track the changes you make and restoring of previous ones.
13.Event Scheduler
Do you forget your important appointments?Are you in utter confusion with your meetings and events? Here is tool for you to simplify scheduling tasks.
Doodle
controls and monitor your appointments and events by clubbing it with your calender.You can have all your meetings and appointments at your fingertip.